Amazing things can now be printed in 3D. But will it be possible to print a reef from locally dredged material? Reefs that have been designed specifically for their environment, creating an optimal habitat for local coral development? How one pioneering employee put two and two together resulting in a remarkable pilot in Monaco.
Six 3D printed reef modules are to be installed in the Larvotto Reserve in Monaco. Boskalis Environmental Engineer Astrid Kramer and Senior Engineer Jamie Lescinski unveil the details.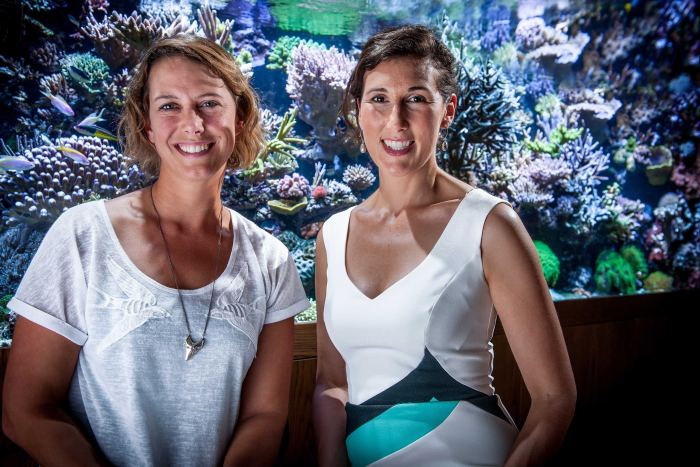 Astrid, this was very much your brainchild, where did you get the inspiration for this idea?
Astrid: "Boskalis was deployed in 2010 to work on the prestigious Jamaican coral reef relocation project, the largest ever relocation of a coral reef in the world. While there, I was considering artificial reefs, which are typically made from concrete, plastics or old wrecks, when I read an article about a man (who later turned out to be Enrico Dini) in Italy, who was creating 3D prints in sand and making reefs. It felt like the missing piece of the puzzle. So many artificial reefs fail, because they are unsuitable for that specific location. Printing artificial reefs based on scientific ecological principles, using locally dredged sand from our projects — effectively giving the material back to the ocean — seemed a pretty cool idea."
And your idea was further developed through the Boskalis Innovation Challenge?
Astrid: "In order for a company to develop and move forward you have to keep thinking about new ideas and apply them in practice. That is the central theme for the Boskalis Innovation Challenge in which colleagues are invited to come forward with innovative ideas. The best ideas are then put into practice. At a ceremony held in May 2014, the best seven ideas were selected from more than 70 entries. Our team won."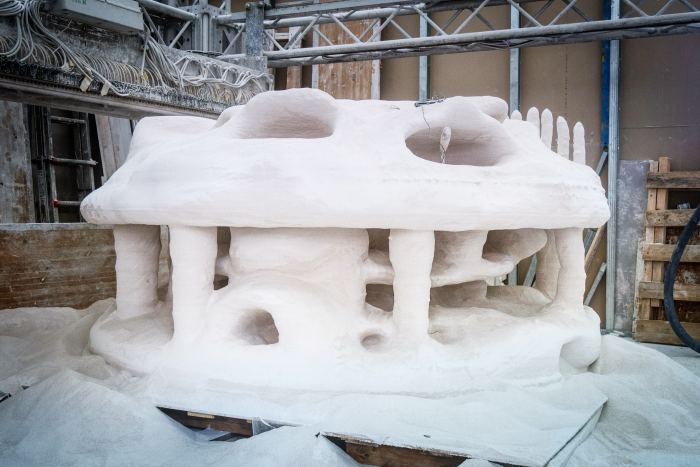 Why did this idea win the Innovation Challenge?
Astrid laughs: "It's a brilliant idea!" Jamie agrees: "True, and I think Astrid's team won because this was an inventive solution that would meet today's environmental challenges. It is becoming more common place for construction projects to be carried out nearby, if not within, sensitive environments. One such ecologically rich, sensitive environment is a marine reef. This idea provides a solution for addressing an environmental challenge, whilst re-using dredged materials – it is the ultimate in recycling." Astrid: "Boskalis has experience in the deployment of artificial reefs, habitat restoration, coral relocation and the implementation of Building with Nature techniques in projects. However, we sought a 3D reef pilot project in which we could work together with scientists and regulators to expand our knowledge of and experience with 3D printed reefs."
And the perfect pilot came along?
Jamie: "Prince Albert II of Monaco was on a state visit to the Netherlands with Bernard Fautrier, the president of his Foundation. The 'Fondation Prince Albert II de Monaco' (FPA2) supports sustainable and ethical projects which focus on climate change, developing renewable energies and combating the loss of biodiversity. During his visit he spoke to various industrial leaders, including marine contractors. Boskalis was asked to give a presentation on how it is trying to meet environmental challenges through innovative solutions, and one slide showed the printed reef concept. This was just a month after Astrid had won the Innovation Award. Prince Albert II was intrigued by the reef idea and discussions were initiated. On the one hand, Boskalis was looking for a good, 3D printed reef pilot project to increase its knowledge about and experience with the designing, production, placement monitoring, and performance of 3D printed reefs. And on the other, FPA2 had been looking to create more artificial reefs within their waters to continue to improve the ecological health of the Monegasque marine system."
"FPA2, the Association Monégasque pour la Protection de la Nature (AMPN) and the Monaco Larvotto Reserve team consider placing 3D printed reefs to be an interesting pilot for comparing the ecological development of the printed units with more traditional artificial reef units within the reserve. They also see this as a unique opportunity to be at the forefront of artificial reef technology and design."
Can you outline the schedule and give more details about the project's execution?
"In the pilot project, dolomite sand in combination with a marine-safe binding agent will be used to make the artificial reef units. Six reef units will be printed in Italy, using a D-Shape printer. Each unit will have an outer dimension of 2 meters in diameter and 1 meter in height, and at a glance resembles a mushroom shape. Each unit will weigh approximately 2.5 tons when dry. "
"The reef units will then be transported by truck from Italy to the loading port, Port Hercules in Monaco, and installed by a professional dive team, well-experienced in artificial reef installation at the Larvotto Reserve during October-November.
The dive team will buoy the units using balloons, which are resting in their steel transport cage. Then the units will be towed by boat to their final locations, where the balloons will be deflated to lower the units gently to the seabed. Once safely placed, a team of divers will remove the protective transport cages."
Following the installation will there be a monitoring campaign?
Astrid: "There will be extensive monitoring for at least two years by means of habitat surveys. Boskalis intends to share this data with the scientific community, so we can increase our knowledge in this pioneering area."
Working on such an innovative project must be really satisfying?
Astrid: "We are really creating new horizons here. It is fantastic to work with such a multidisciplinary team with people from so many different disciplines, from industrial designers to local specialists. The world around us is changing and I think this symbolizes how a modern project should be. All the stakeholders are working together. It is not just what we do, but how we do it. Boskalis can help bring knowledge experts together and ideas can be sharpened and developed through feedback. So it won't be just the reefs that gain from this valuable knowledge, it can be applied to other fields as well. This initiative combines both environmental benefits and those of the business."
Jamie concludes: "In the pilot team there are people from all different backgrounds and one thing they all have in common is their love for marine life and the desire to show the world how amazing it is."
Read the next article