'I want to do that someday!' thought Ilja Kok seven years ago when she saw footage of the world's toughest rowing competition: the Talisker Whisky Atlantic Challenge. Rowing 4,800 kilometers across the Atlantic Ocean, from La Gomera, one of the Canary Islands, to Antigua in the Caribbean. She has now found three allies: Ingeborg Dijkstra, Marcel Ates and Guus Koppes. They are Team BOKA NEDurance. Boskalis is the proud main sponsor of this ambitious team that started the race on Monday 12 December and has set itself the goal of beating the world record for mixed teams, which currently stands at 40 days. In addition, the team wants to raise money for The Ocean Cleanup.
Why?
"That's a question we get asked quite often," laughs Kok. "When I saw the pictures of the race, I just couldn't stop thinking about it. The time wasn't right then but it kept running through my mind. It even kept me awake at night. Four years ago, I signed up; I didn't even have a team at the time. I started asking around, including at the Dutch Royal Military Academy rowing club, and that's where I came into contact with Ingeborg. She knew someone else who was 'crazy' enough to want to do this, so then Guus joined us. I had already talked to Marcel to find out more about the race, because he had already competed and won once, in 2018. We needed one more person, so we called him and told him about our goal of breaking the world record for mixed teams. He called back 24 minutes later and that's how he joined the team. So things went fast."
Different roles
As on board the Boskalis vessels, in the projects and offices, diversity is a feature of the team. Not only does the rowing team consist of two women and two men, there are also differences in age, background, education and experience in ocean rowing. "On the boat, we have clear roles. We have split the team up into two couples and the couples alternate every two hours during the race. Ingeborg and Guus are one couple, and Marcel and I the other. One of the two active rowers must also make sure we stay on course at all times; that's Ingeborg and Marcel's job. We also get help from the shore in this respect from a fifth team member: our weather router. He continuously monitors whether we are still on course, whether heavy weather is approaching that means we have to push a bit harder, whether the currents will affect us, and so on. He advises us on the basis of our capacities: we have trained, calculated and recorded all of that with him. So he's very important! We have also allocated a number of other tasks: the performance of the boat, including how to load the boat in the best possible way, first aid, repairs along the way, and of course all the preparations."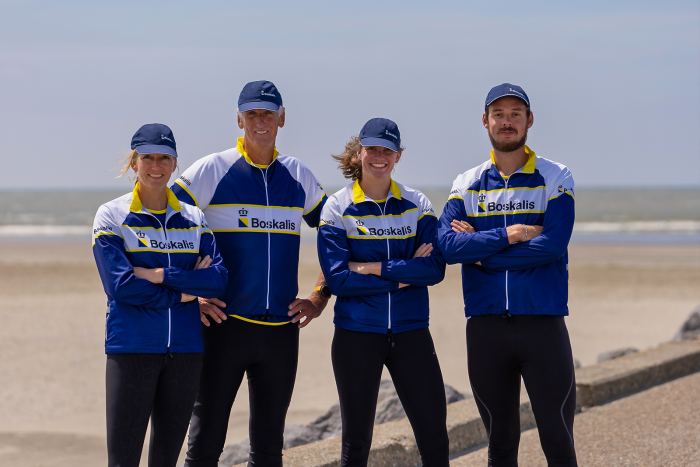 Food
An impressive 500 kilograms of food is on board. The rowers use an average of about 8,000 to 9,000 calories a day, and that means supplementing their diet as much as possible with bars, gels and food bags. "A specialist has calculated exactly what we need for each person. We have a small gas stove to heat water in which we soak the food bags to make the food soft and edible. There are all sorts of varieties on offer but we practiced with that as well to know which varieties each of us liked. Obviously, it's essential to drink enough as well: we need to drink almost 10 liters of water per person per day. We have a water maker on board that can produce 30 liters of water in sunny weather. If there is no sun, or if we haven't got enough sea water, we have to filter the seawater manually."
Swordfish attacks
Kok comes up with a surprising answer when being asked what she is most worried about: "Swordfish attacks. That's something that really frightens me. It has happened three times in the last two years, and a sword like that goes straight through the boat. That's because there are often schools of fish swimming under our boat that the swordfish wants to whack with its nose. And it sometimes misses. That's why we have mats of Dyneema rope on the bottom of the boat so that you don't get a sword like that going through your foot at 60 kilometers an hour. We can repair the hole in the boat with epoxy but a foot is a bit more challenging." Other things on the minds of the team members include storms, going into the deep water to remove cockles from the boat, going to the bathroom on a bucket, and physical problems. And, last but not least, the monotony: day in and day out, rowing, sleeping, rowing, sleeping, rowing, sleeping…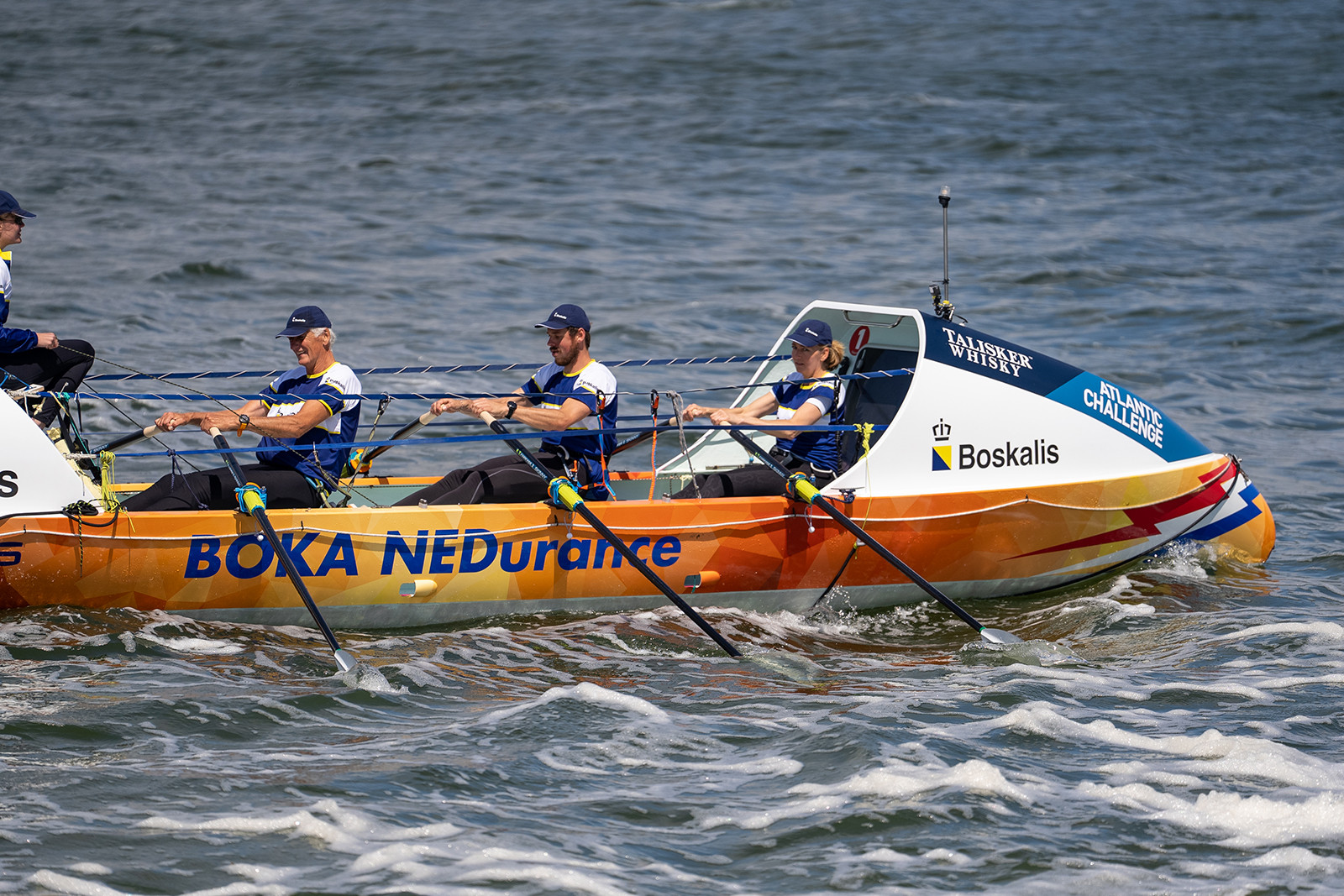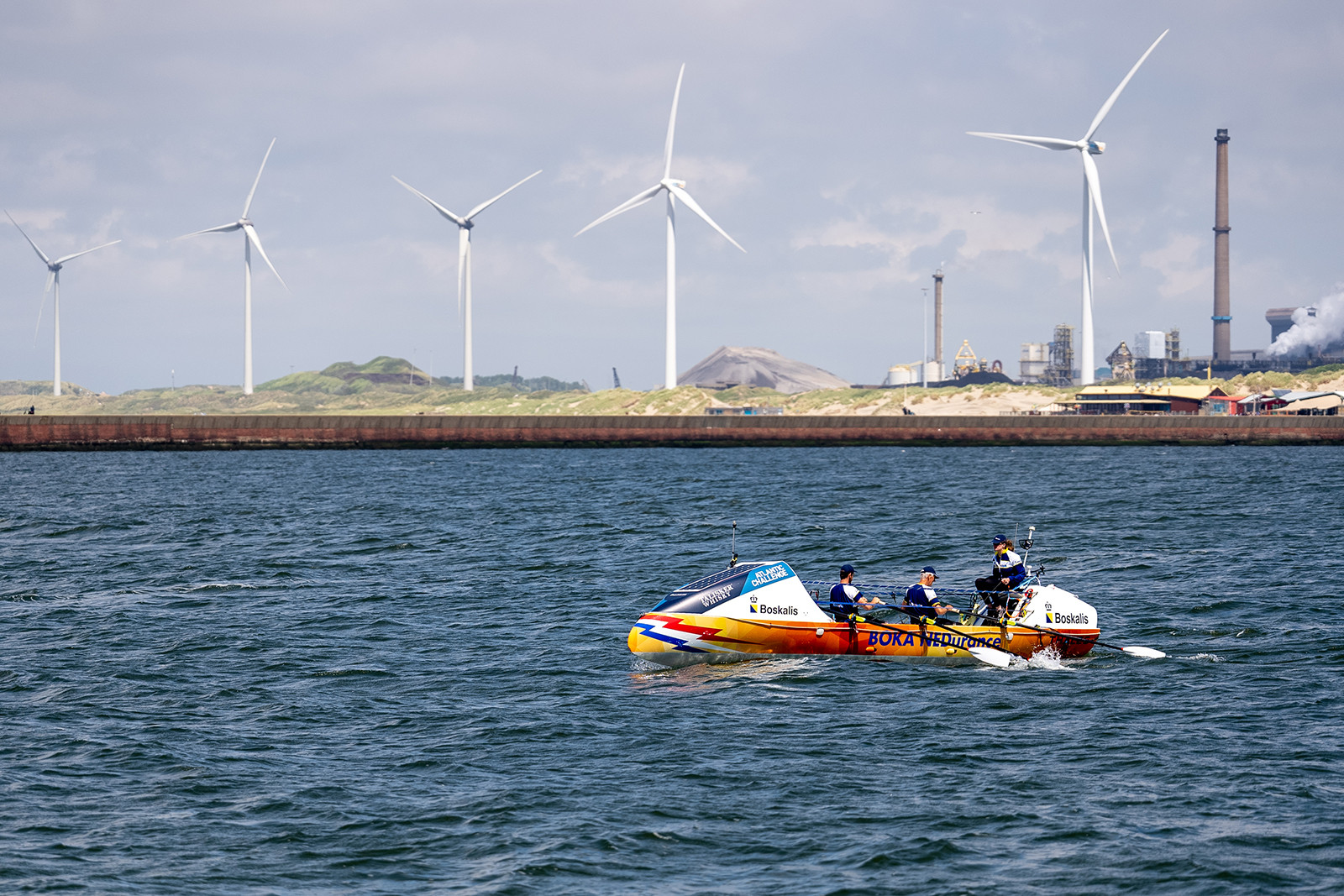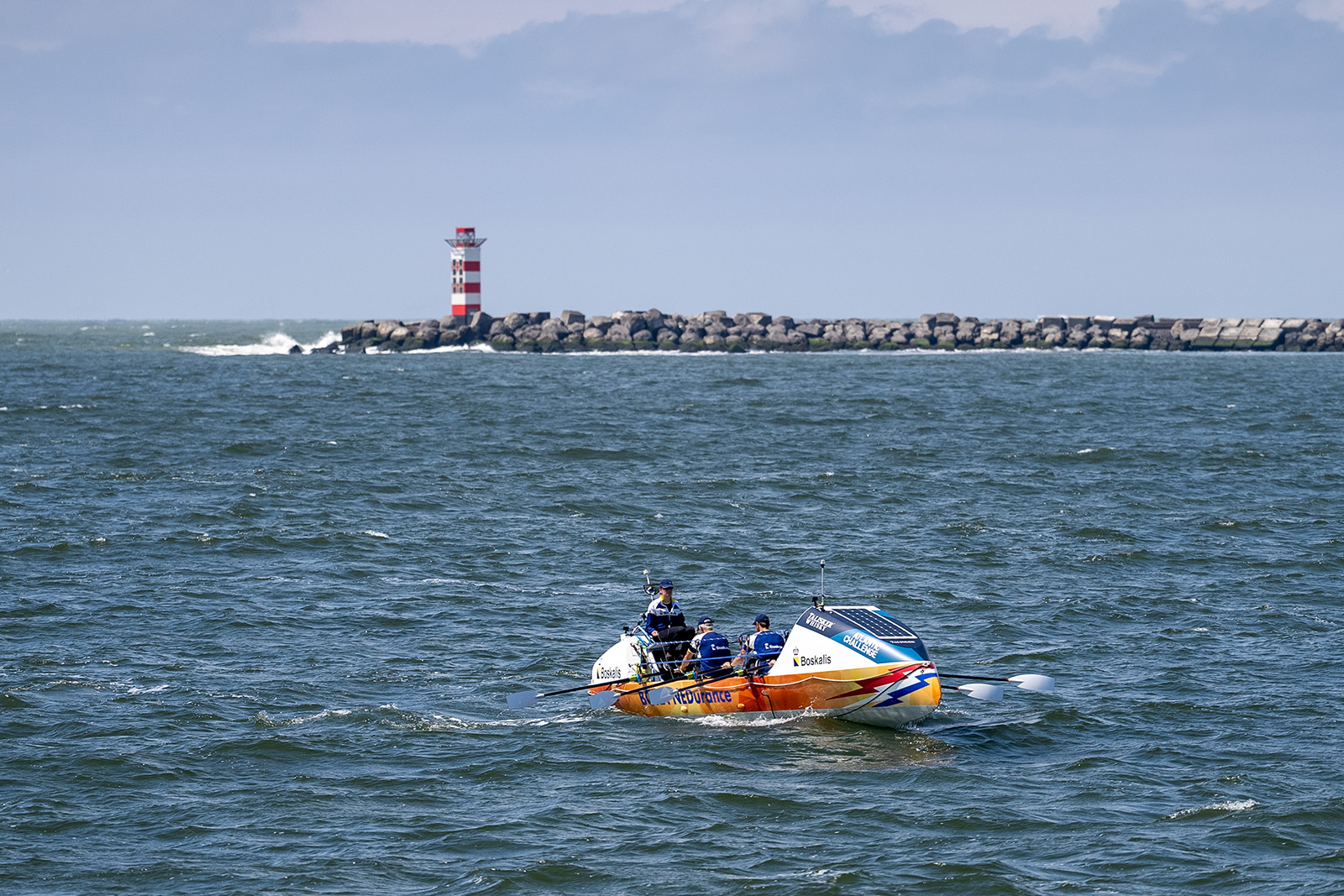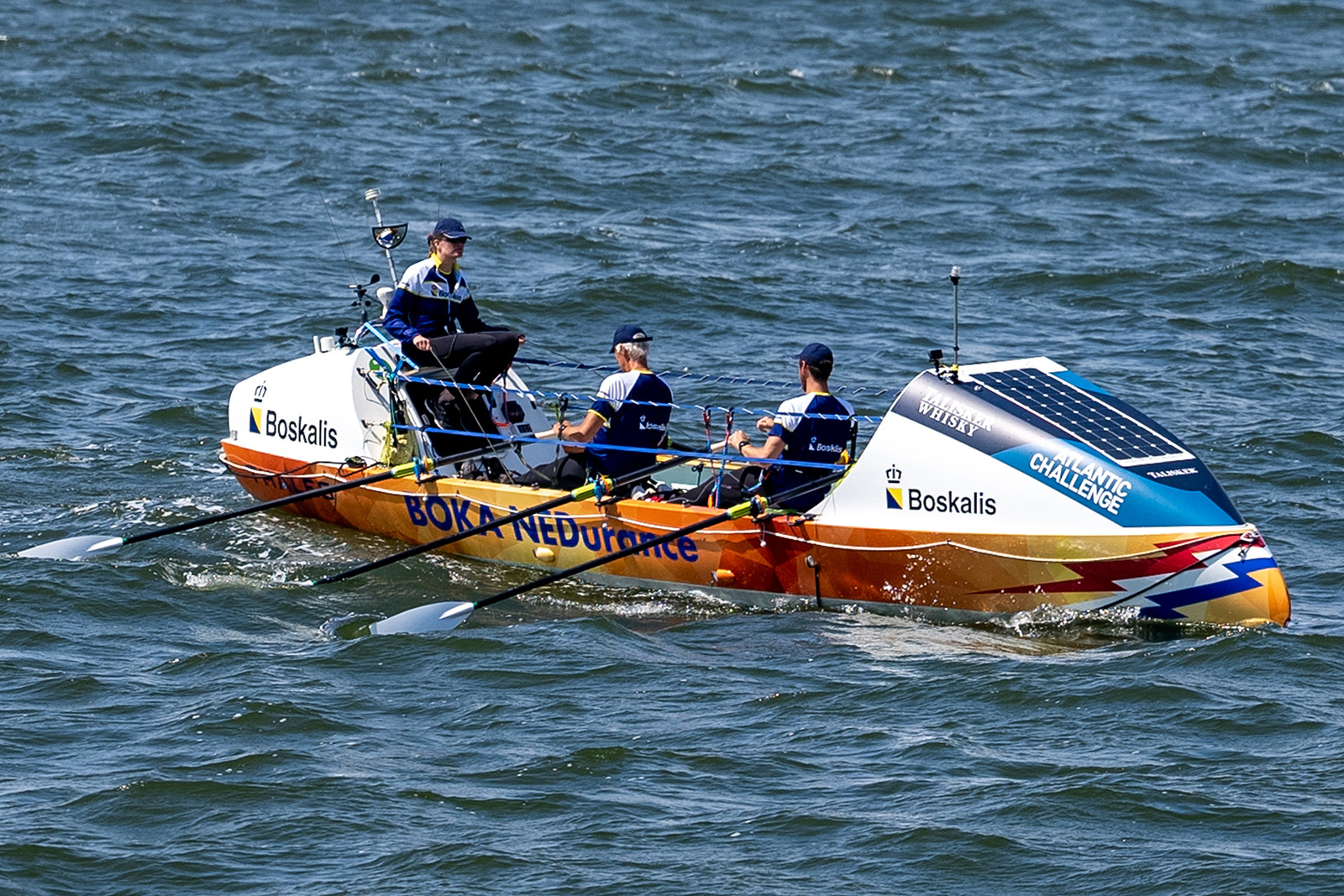 World record
A total of 43 boats are competing in the race, ranging from solo boats, teams of five, and everything in between. And they all sail at their own pace. When the first gets home, the last will probably be only about a third of the way through the trip. So the reception committee in Antigua will also be there for a month or two to welcome all the boats. "We hope to break the current record for mixed teams. That is now 40 days and 23 hours, and it was set in normal weather conditions. We are really determined to break the record so we are certainly going for it!"
New world record for Team BOKA NEDurance
After rowing for 32 days, 23 hours and 53 minutes, Team BOKA NEDurance arrived in Antigua in the Caribbean on 14 January and was warmly welcomed by friends and family. In doing so, the team completed the rowing race and set a new WORLD RECORD for mixed teams by breaking the previous record by an astonishing 8 days!
As main sponsor we are very proud of the four heroes who competed with the fastest men's teams for the top spots in the overall standings. After an exciting battle and overcoming a hefty setback, they finished the race in a magnificent 4th place overall and took the win in the mixed class. A huge achievement that required an exceptional degree of teamwork, dedication and mental resilience; qualities that we at Boskalis also value highly and why we are a proud sponsor of Team BOKA NEDurance.
Read the next article