A major recent project for Boskalis was the installation of four 220kV export cables that link the Borssele offshore wind farms in the North Sea to the high-voltage grid in the Netherlands. "The Borssele Alpha and Beta projects are perfect examples of the optimal teamwork between the various disciplines of our company," says project manager Simon Overgaauw.
The Borssele wind farms are being developed in the North sea, approximately 55 kilometers off the Dutch coast. They are designed to generate more than 1,400 MW of electricity. The export cables connect the offshore high-voltage platforms Alpha (for wind farms Borssele 1 and 2) and Beta (for wind farms Borssele 3 and 4) to the Dutch power grid in Borssele via the Western Scheldt estuary. The four cables have a combined length of 250 kilometers. Boskalis also installed the interlink cable between the platforms. The windfarms will become operational later this year.
Partnership
"This is a showcase of the strategic partnerships with other market players that Boskalis pursues. We executed this project for client TenneT in a consortium with cable manufacturer NKT Cables," says Simon. "We developed integrated, cost-effective solutions together. By making agreements about the cable specifications, we were able to reduce the costs and risks for the client." The cables, the majority with an aluminum core and others with copper cores, were made in Germany and transported in separate sections by inland barges to Rotterdam, where some were welded together and others installed to be jointed later offshore.
Challenges
"This project is a great example of our unique combination of activities and capabilities. Perfect coordination was vital in the preparatory and operational phases," continues Simon. "Both the Alpha and the Beta projects consisted of two parts: the offshore and nearshore sections. Each section presented its own specific challenges. We had to dredge at extremely varied depths: at sixty meters in the navigation channel known as De Honte, which is the deepest waterway in the Netherlands. In terms of depth and hardness of the soil, we were working at the limit here. We fitted out the jumbo hopper dredger Prins der Nederlanden with an extended suction pipe and the heaviest possible draghead. But right next to De Honte there is a sandbank that falls dry at low water. Here we could only dredge with a small cutter suction dredger."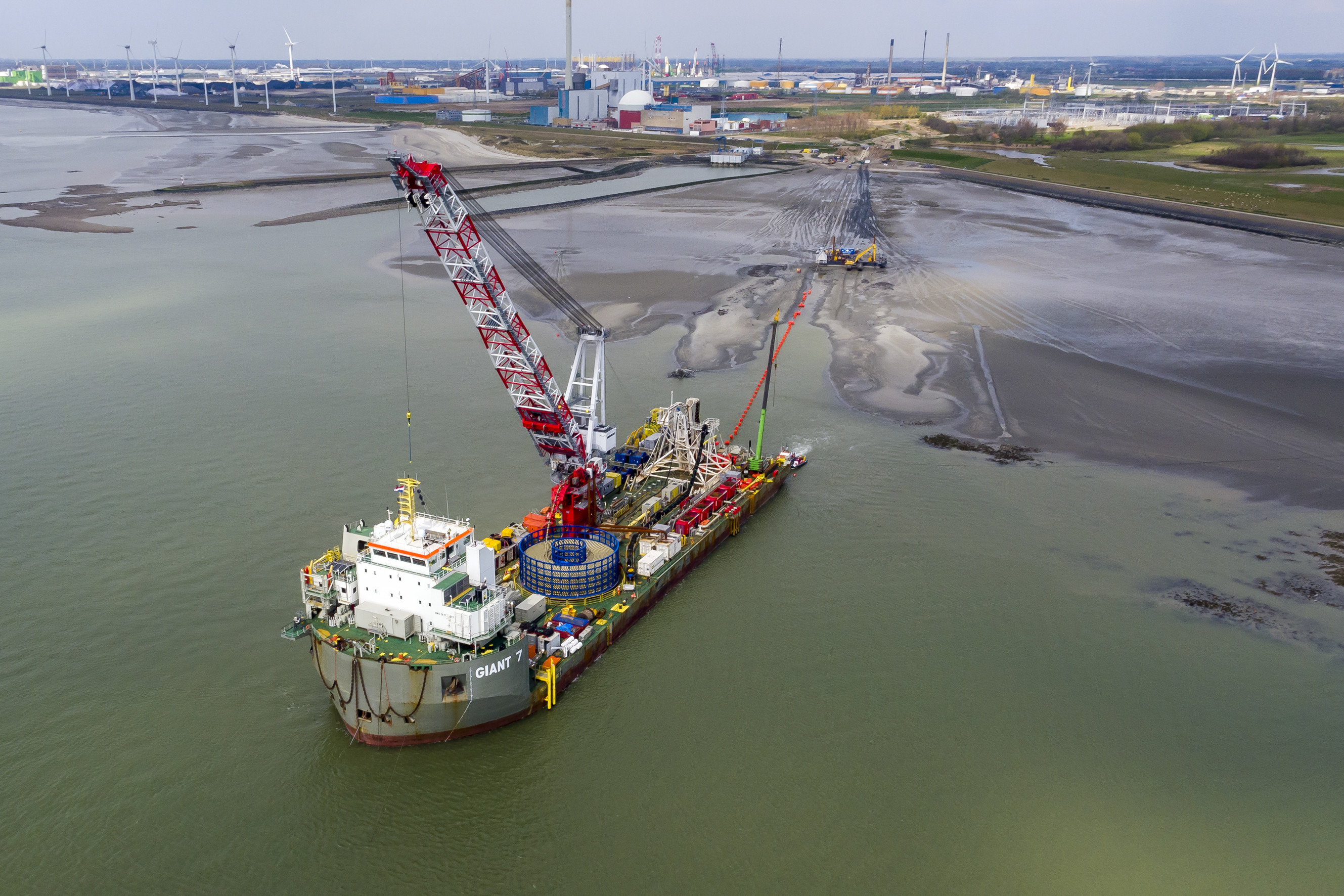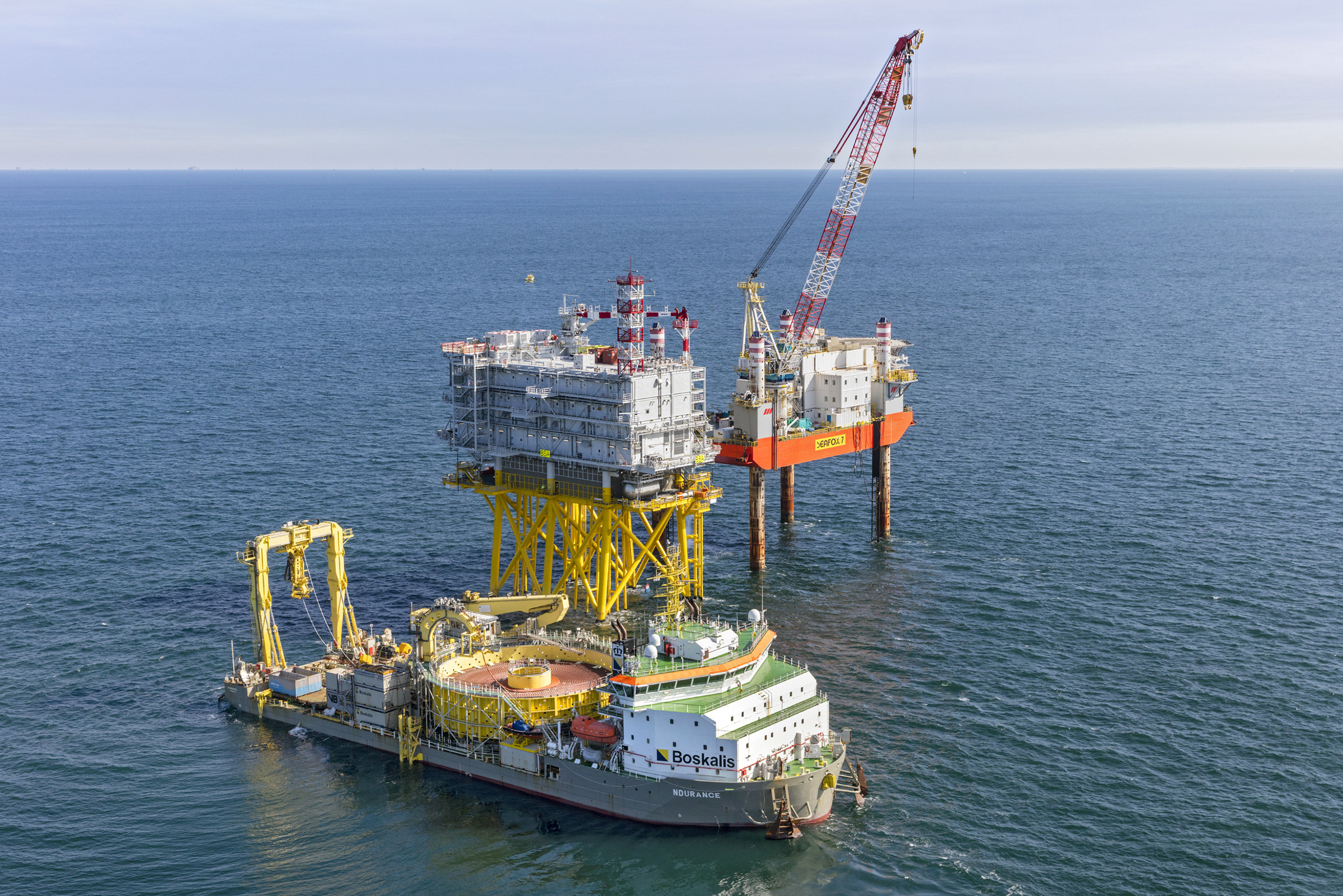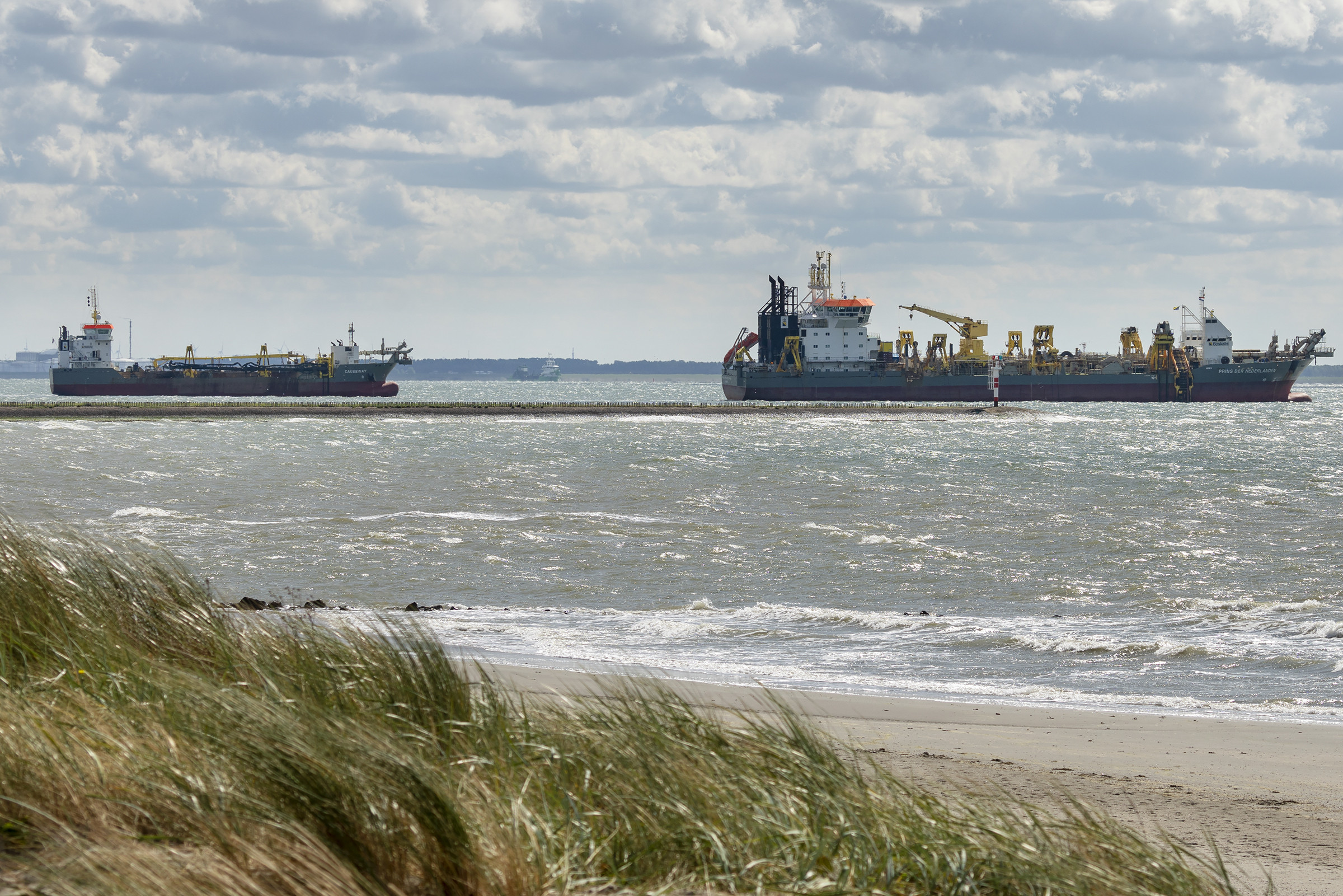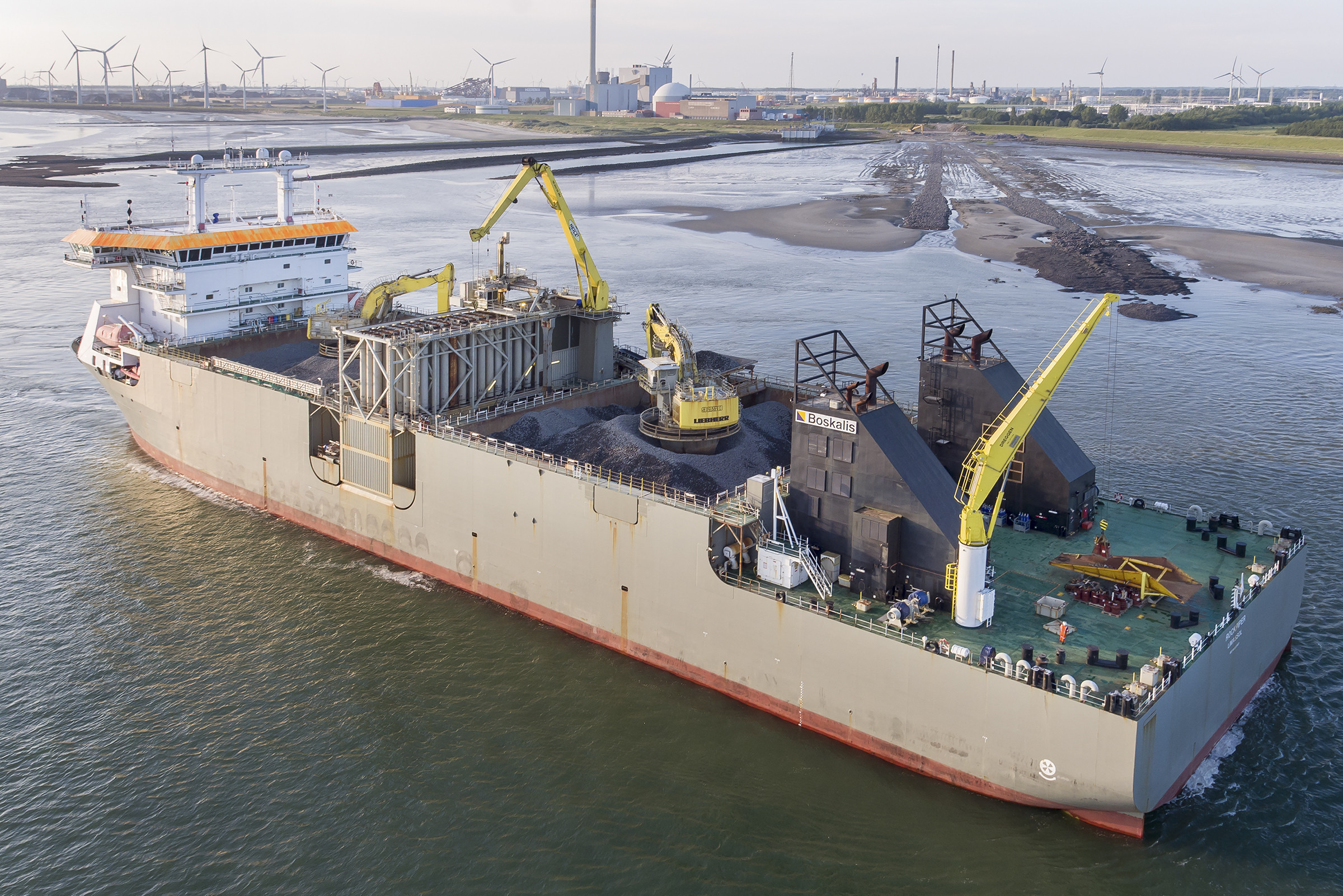 Permits
Boskalis started preparations for the project more than three years ago. "Among the first tasks were making all the calculations and applying for the necessary permits," says Simon. "And there were a lot of them because the cables go through an area where strict environmental regulations apply. Another part of the route runs through busy offshore shipping lanes. That means we needed a sound plan that was coordinated with various authorities and waterway managers. We were dealing with numerous stakeholders and a wide range of permit requirements, such as the environmental permit for the Natura 2000 area and the permits for the temporary digging out of the primary sea defenses. We had to close the Western Scheldt, a very busy shipping route, four times for almost half a day. That required intensive coordination. Another important factor was the weather. Obviously, the autumn and winter are not the ideal time for laying cables," he says. "We drew up a schedule that took these factors into account in order to install and connect the cables on time."
Complexity
"In addition to cable-laying, the project consisted of tasks such as specialist dredging, earthwork, upgrading dikes, surveying and rock placement. The variety and numbers of the vessels and equipment demonstrate the complexity of the project," says Simon. The dredging work for Borssele Alpha began in 2018. Prior to these operations, extensive surveys were completed to determine the status of the seabed. Dredging work was carried out by the trailing suction hopper dredgers Causeway and Prins der Nederlanden, the cutter suction dredger Rhone and the backhoe dredger Manu Pekka. "We had to remove a wide strip of mud in the so-called mud flat near Borssele and replace it with a sand package, so that the cables can dissipate their heat better," explains Simon. "Our surveys had shown that the soil data of De Honte that were provided for the tender did not correspond to the actual situation. There was a risk of a large embankment sliding onto the water bed, which could potentially damage the cables. That's why we called in our colleagues from Cofra. They worked twelve hours a day from a crane pontoon to compact the soil using vibro-compaction. The client also asked us to cover the cable with rock in De Honte in order to prevent damage by, for example, anchors. We mobilized our fallpipe vessel Rockpiper to protect the cables with rock in the fairway, at depths of thirty to sixty meters. That involved bringing in a total of almost 150,000 tons of rock from Norway. In the shallow sections and at the landfalls, we used our excavators and other equipment to cover the cables with rock."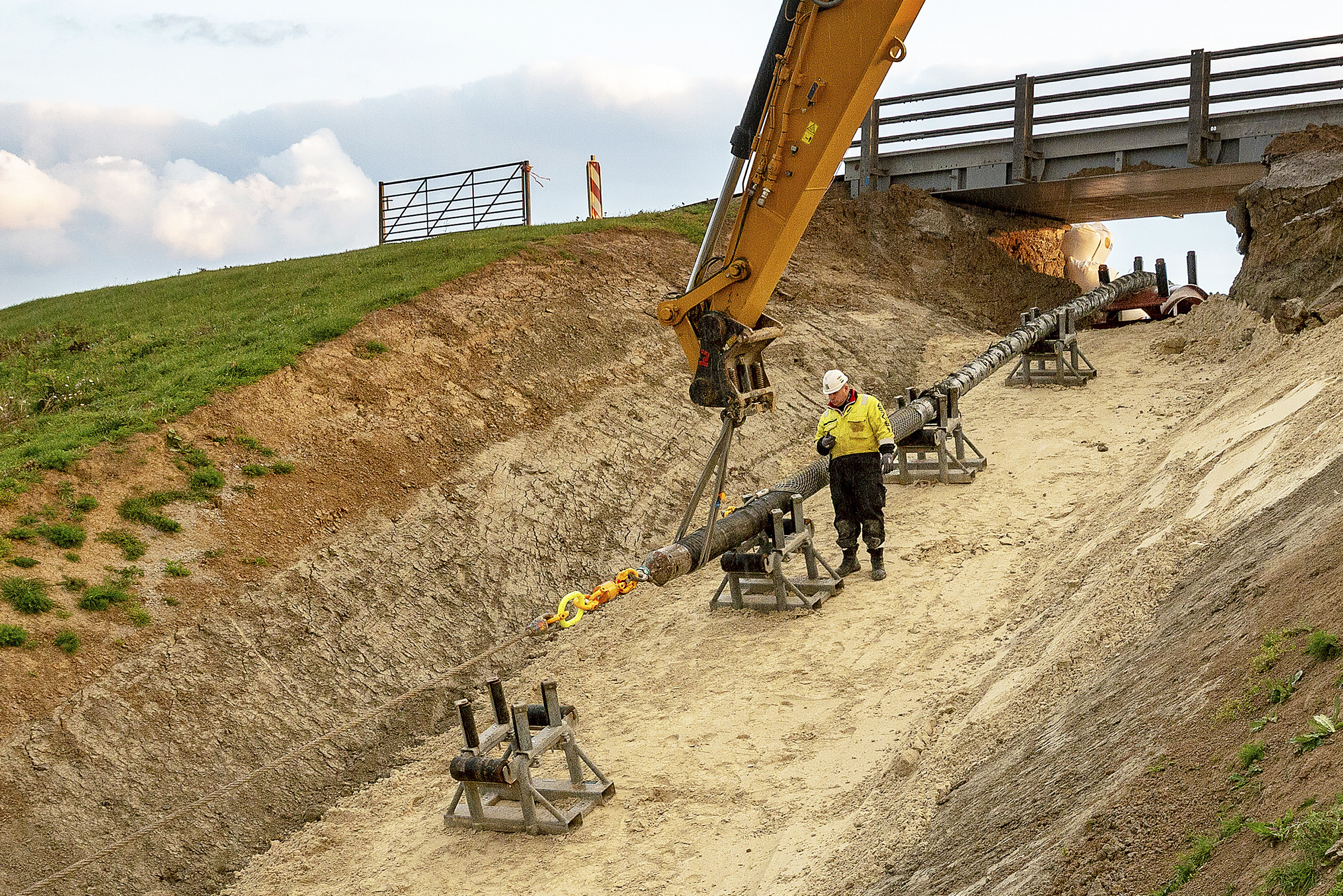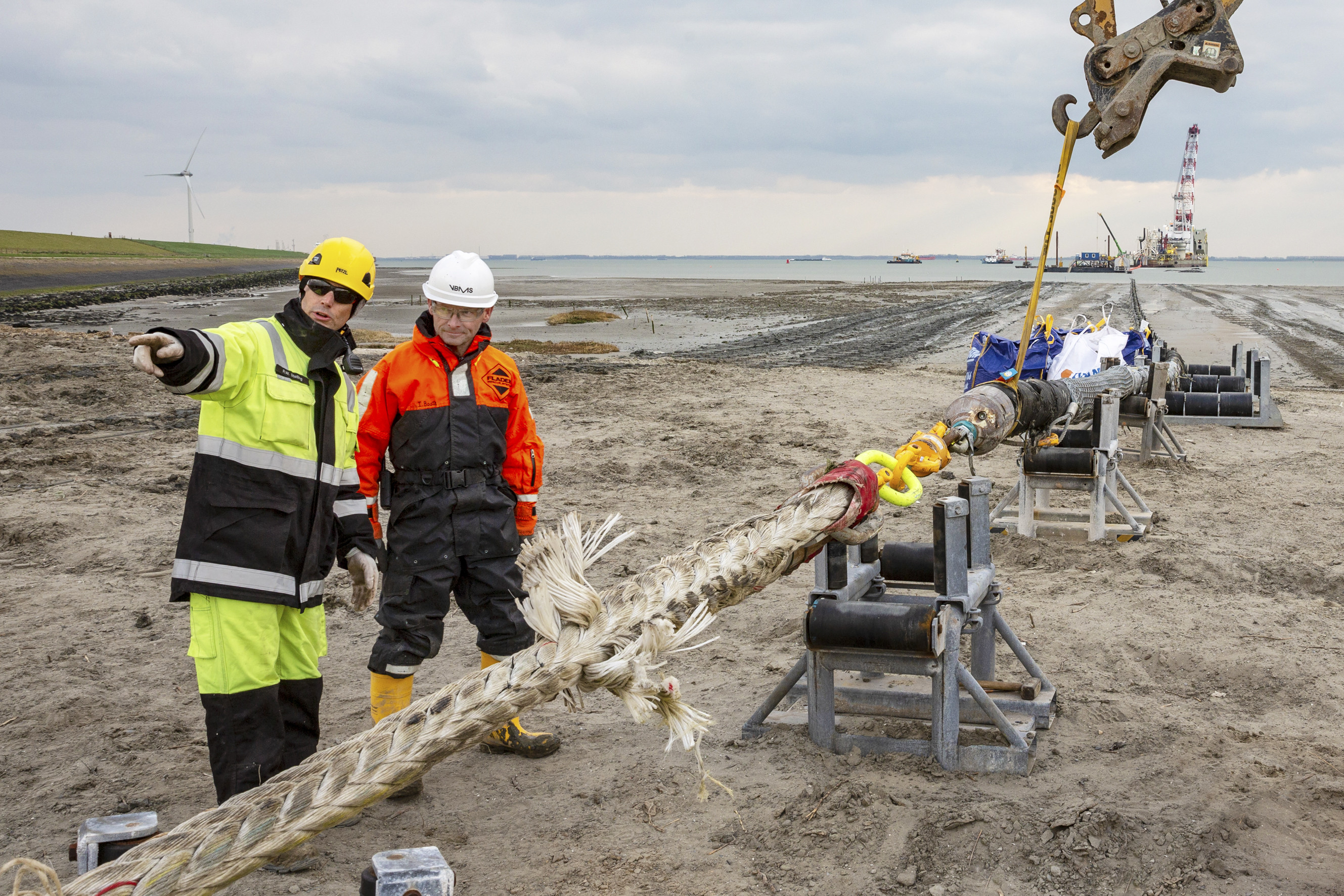 Nearshore section
The nearshore installation of the cables, through a sandbank in the Western Scheldt, was the most critical part of the Borssele Alpha and Beta projects. Shallow sandbanks can sometimes be above the waterline at low tide and soil varies from sand to several types of stiff clay. "This area in particular required a seamless coordination of different execution methods," says Simon. "We deployed our new BSS3 (Burial Sledge System) tool, that was developed in-house specifically for this project. The BSS3 is a dedicated tool for the simultaneous laying and burying of cables. It is pulled along by the Giant 7 and equipped not only with a jet lance, but also with a cutter to cut through sections with clay. The BSS3 buried the cables at depths ranging from 3 to 8 meters. That is unique: no other company has the capacity to install cables of this type at these depths," says Simon. "Furthermore, our barge Giant 7 was converted into a cable-laying vessel specifically for this project. The vessel installed the eight 19-kilometer-long cables, each weighing 1,600 tons, in the nearshore section. Deploying the BSS3 from the Giant 7 enabled us to lay the Alpha and Beta cables at the right depth in the ground in single runs."
Offshore section
The offshore cable-laying for Alpha was done by the cable-laying vessel Ndurance and the multi-purpose trenching vehicle Trenchformer. For the two Beta cables the cable-laying vessel Ndeavor with the new burial tool CBT2400 was deployed. The four cables were installed over distances of about 30 kilometers (the two Alpha cables) and 35 kilometers (the two Beta cables). "Offshore the cables are protected further by a natural backfilling process," says Simon. "Our work in the offshore section also included the installation of a 7-kilometer-long interlink cable between the Alpha and Beta platforms."
Offshore joints
After executing the various cable-laying activities the Giant 7 was converted in the port of Flushing to make the subsea cable connections, the so-called offshore joints. "The total distance covered by the cables was more than the cable length that we could carry on the ship at once," Simon explains. "As a result, there are separate cable sections on the seabed at eight locations that had to be connected to each other. Each connection took about ten days to make."
Time limits
In order to connect the cables to the high-voltage grid in Borssele, Boskalis completed a total of four landfalls in the nearshore section. The cables were pulled more than a kilometer and a half over the mud flat to the station in Borssele. The landfalls also required the temporary lowering of the Borssele dike. "There were additional requirements and time limits in this area as well," Simon says. "In case of an unexpected storm the sea defenses had to be completely intact. So in all four cases we had to be able to restore the dike to its original shape within twenty-four hours," he explains. "After the completion of each landfall, the Giant 7 crossed the waterway to lay the cables at a wide range of depths. To allow this work to be done, the shipping route to and from the port of Antwerp was completely closed on four separate occasions. Each time we had to complete the work in just ten hours, which we managed to do so successfully." At the end of the project, final surveys and definitive tests were carried out. Simon: "This project really is a demonstration of the synergy within Boskalis. By pulling out all the stops we turned this complex job into a great success."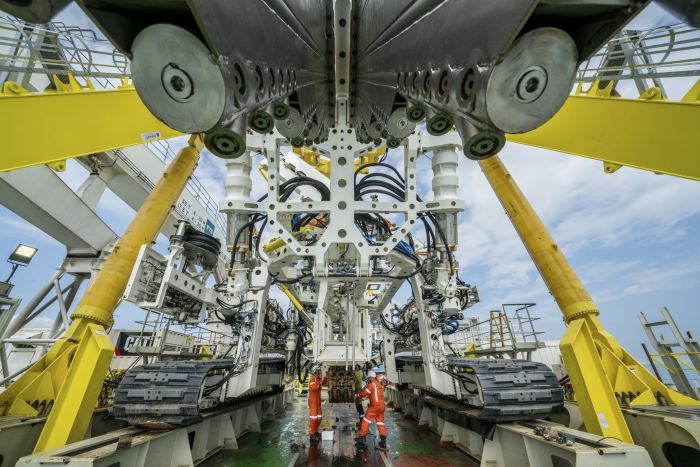 Read the next article