After joining the Boskalis group eighteen months ago, offshore survey specialist Gardline has settled in perfectly, with its activities complementing the scope of our existing offshore and dredging activities. With the acquisition, Boskalis is now a leading supplier of offshore surveying services in Northwest Europe.
Gardline was established fifty years ago as a family business. With its headquarters in Great Yarmouth, Norfolk, in the UK, it offers second-to-none geophysical, geotechnical and environmental offshore survey services to clients in the oil & gas and wind energy markets in this region.
CEO Christiaan Vermeijden outlines the company's core business activities and the impact of joining Boskalis. "Our clients include all the major players in the oil & gas and renewable energy sectors, particularly in Northwest Europe. We have been working with many of them for a long time now under framework contracts and they have responded positively to the fact that Gardline joined the Boskalis group."
The company has extensive experience specializing in the acquisition and processing of 2D and 3D high and ultra-high resolution seismic data. Gardline's science based R&D resulted in a high-resolution seismic solution, GSeis³, that can be operated simultaneously with a full suite of geophysical tools to enhance the standard site-investigation capability. The Gardline vessels also routinely acquire shallow geotechnical and environmental data as an integrated solution from a single platform.
Geophysical surveys
Gardline's core business includes geophysical surveys to investigate whether the conditions on the seabed are suitable for the installation of offshore structures such as oil rigs, wind turbine foundations or cables. Services include three-dimensional, high and ultra-high resolution seismic. Christiaan explains: "Our 3D HR surveying technology offers the most effective way of identifying geohazards, including the presence of shallow gas. We have more than six years of proven experience in this field acquiring industry leading data to help our clients make informed decisions and have a big lead over the competition."
In addition, Gardline offers a range of specialized services using equipment such as side scan sonar, multibeam echo sounders, a choice of sub-bottom profilers, ROVs, all selected to suit various objectives. These are deployed for measuring water depths, mapping out the topography of the seabed, detecting debris, shipwrecks, unexploded ordnance, and identifying rocks and (types of) sediment below the seabed.
"To date, Gardline has successfully completed more than 10,000 marine survey projects for oil and gas operators, offlshore wind farm site investigation, and 50,000 kilometers of hydrographic surveys for UNCLOS and EEZ delineation claims."
Gardline can also execute geohazard assessments for a variety of depositional settings ranging from shallow water to ultra-deep water locations. "In deep waters, it is frequently possible to reprocess and interpret existing 3D exploration seismic data as an alternative to a pre-drilling 2D HR geohazards survey."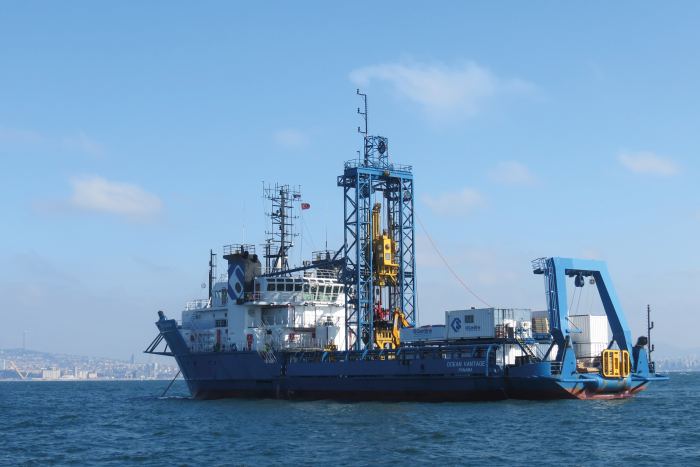 Geotechnical surveys
Offshore geotechnical surveys are another core activity. This involves taking soil samples, for example by drilling, and testing the samples on site to establish a picture of soil properties. Gardline offers the DP2 heave-compensated drilling vessel Ocean Vantage, for this type of work.
"Given the increasing demand for geotechnical and 3D-HR surveys, we are looking for ways to adapt our vessel fleet accordingly," Christiaan adds. "Gardline delivers offshore geotechnical drilling, seabed and downhole sampling and in-situ testing services from the shoreline to the limits of current regional exploration activity." As well as having its own, dedicated geotechnical drilling vessel, the company also has mobile geotechnical equipment that can be mobilized on suitable third-party platforms.
Environmental surveys
Gardline also provides environmental surveys, largely in response to local legislation and regulations. Surveys of this kind focus on identifying subsea flora and fauna by means of habitat evaluations, taking water samples, and detecting and identifying fish and marine mammals using visual and acoustic monitoring.
The Gardline fleet includes 11 dedicated survey vessels and 12 smaller vessels such as survey catamarans and crew transfer vessels. The company is reviewing its ffileet composition with a view to modernize and or adapt some vessels in line with market demand.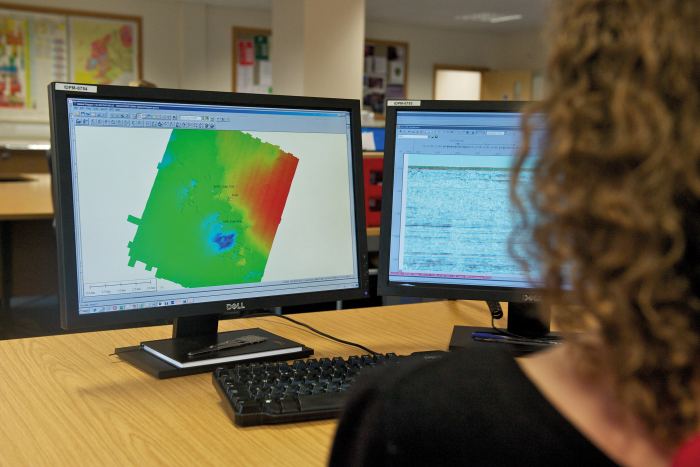 Strategic ambition
A long-standing strategic ambition for Boskalis has been to establish a position in the field of offshore surveys and we are delighted to have our own specialist company. Christiaan comments: "One of the advantages of having offshore survey activities in-house, and this is particularly important in the early-cyclical energy markets, is that Boskalis no longer needs to charter this type of service from other companies."
Sander Korte, Director of Boskalis Subsea Services, believes there are opportunities in both the field of Inspection, Repair and Maintenance and the detection of unexploded ordnance. "Together with Gardline we have looked at potential synergies and we are seeing interesting value-adding opportunities for our offshore clients. Our colleagues from Boskalis Hirdes are experts in the identification and removal of unexploded ordnance but the initial surveys are still often conducted by third parties. Acquiring Gardline has helped Boskalis achieve its long-held ambition to be a leader in the geophysical, geotechnical and environmental offshore survey services sector – a new horizon for Boskalis!"
Read the next article